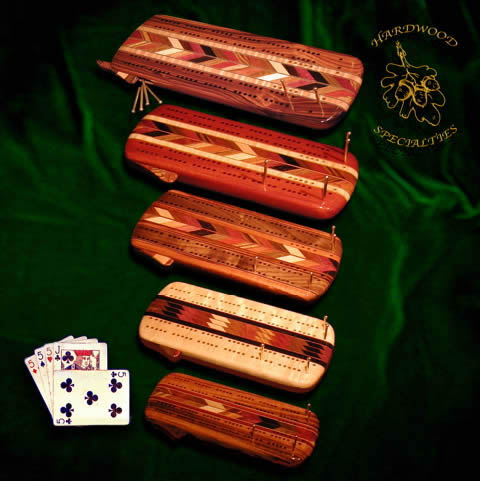 Each of the cribbage boards seen on this web-site have been created by John Silas, and are made from 100%
naturally colored hardwoods. There are no stains or dyes used in this process. The process is known as "Stack
Laminating", as in asolid hardwood laminate, and since they are not inlayed, their colorful hardwoods go all the
way through each piece.Therefore the back of the boards are as beautiful as the front.
The design of these boards allow for their pegs to be carried inside the end of each. This is done through a sliding
dovetail 'mortise and pin' technique. By pushing firmly against the pin or raised bump on the end of each board
you may reveal a deep slot which is filled with beautiful handmade brass pegs. Each board comes with two sets of
(4) pegs (8) total. And are cheerfully replaced at no cost if lost to prior customers of Hardwood Specialties.
Also each board is treated to 5 coats of a hand rubbed Danish Oil finish and are water resistant, very little is
required to maintain their beautiful finish. Included with your new cribbage board will be a heavy black cotton
velveteen caring case. This case is heavy enough to protect the board while traveling and is spacious enough to
also carry a deck of cards if you wish to travel with both. Also the complete book of rules and a card describing
each of the hardwoods and their country of origin are included. There are no less the 9 colorful domestic and
exotic hardwoods used in each board.